Political Election Digital Marketing Campaign Promotion
Digital Political Election Campaign Promotion
Political and Digital Marketing
We digitally Supporting to Political Parties, Political Leader and Individual Candidates to Grow Strategically Fast to the present and Future Political Potentials. Keeping in Mind that India is Offering Most Vibrant Political Development Environment in Its History. Indian Political Environment Tends to Emerge as Future political hub.
We Are Aimed to Support Digitally Struggling Politicians, Political Parties, New Entrants to beat with their Prolonged Political Struggle, prerequisites and Barriers Against All Odds and Synchronize Their Political Positioning as Per Fast-Changing Political Environment and Voters Behavior. They can be digitally Explore the Political Opportunities Around Them and they Emerge as "Pioneer Leader" Not Only in Their Voters but On State and India Level.
TechWebS Media Help to Plan Digital Marketing strategy for any type of political, Political Parties, Local political parties and leaders, National political parties and leaders, Individual political party and leader.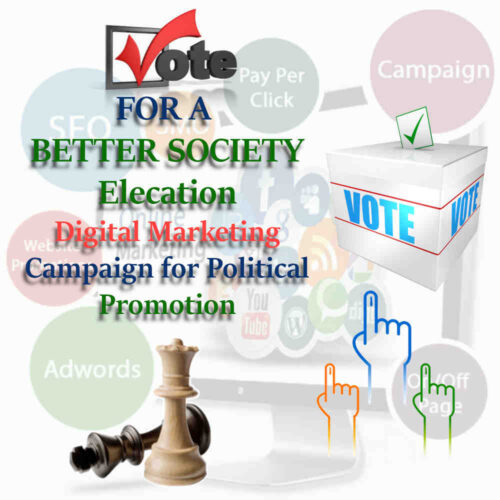 Type of Media which cover Political Digital Marketing Promotion
Political Social Media Promotions
Facebook Ads, YouTube Ads, Twitter Ads, Linkedin Ads, Instagram Ads, Tumblr, Pinterest Ads
Political Search Engine Marketing
Website Development, App Development, Blog, Google, Yahoo, Bing
Political Web Banner Advertising
PPC Ads, Display Ads, Remarketing, Mobile ads, App ads
Political Other Marketing Option
Bulk SMS, Bulk Voice Call, Bulk WhatsApp, LIVE Tele Call Centre Facility for Vote Appeals, Chatboat, Live Chat Technology for Aung Voter, Podcasting
Political Story, Past Work and Cartoon Types Video, Live Streaming of Events
Data Management.
Programmatic – Most campaigns use programmatic advertising. programmatic buying uses machines and algorithms to purchase display space instead of traditional method to proposals, tenders, quotes and human negotiation.
 Point to be taken care while Political Promotion Campaign
Understand Digital Ads Laws for Political Campaigns
Before launch any digital ad promotion, make sure you understand the all law of that targeting region.
Define Your Audience, Don't count out "younger age group" and Invest in Proper Targeting
After research how to promote ads legally on the online platform, find your target audience and make strategy based on target audience, Digital Media platform, demographic, and age group that makes perfect sense.
Craft Careful Messaging and check yourself prior to publishing
false or misinformation message are difficult to remove once they've post. Before posting make sure to take approval and check two time post contain, words, sentences, and comment. Make post or message simple, short, memorable and understandable to your target voter audience.
Select Your Channels and Launch Ad Campaigns
Wrong selection of campaign, channel, setting and strategy make huge cost loss. TechWebS Media professional experiences help you to choose right channels and strategies for your digital marketing campaign without wasting time and cost on wrong place.
Use Custom Landing Pages
Quality Page are force voters audience to complete target action goal available on ads or post.
Score more and engage voter via live video
Nowadays Live video is very popular on ever social media and other platform. Live social video is very useful tool especially for local, smaller politician or political party which not receive a news coverage. Page management, vote appeal video, Election campaign video, past work video is very help full in election
Engage the public with visual content
Visual content, videos and infographics are most powerful sharing on media platforms among all other post.
Properly Present your fundraising efforts
Fundraising effort is important part of political party. So. For that you need proper digital presentation for denotation with information of you party. So, donor can trust on you and you can easily raise fund for political party.
Not everybody is interested in politics so that post positive and non-partisan Message
Before Launching Campaign make some other care full message that engage who not interested in politics.
Regularly ask questions and answer
To continue touch with voter regularly ask some question answer for engage them.
Make a Point to post everyday
Make Advance point to point plan for Post every day related to current political and world changes.
Measure Your Results
Measuring result give us feedback, if we going wrong. So that we make right and better on next time.